Parks & Playgrounds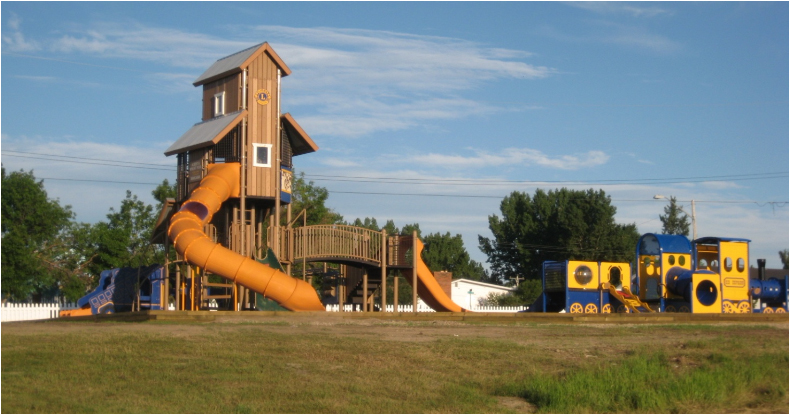 Lions Centennial Park
One of the biggest and most elaborate Community Work Bees has been the new "Lions Centennial Park" located on 1st Avenue. Over 100 volunteers rallied to build the impressive grain elevator play park to commemorate the original site of the many grain elevators once located on that site. This project was a partnership between Alberta Trail Net (the property owners) and the Irricana Lions Club (who accessed the funds required to build the park).
This project is far from complete. The new information Kiosks are yet to be suited with applicable maps and signage and information about local flora and fauna. A beautiful bricked courtyard is planned for the next phase of the project. The bricks will be engraved with the many sponsor names and placed around a large central fountain.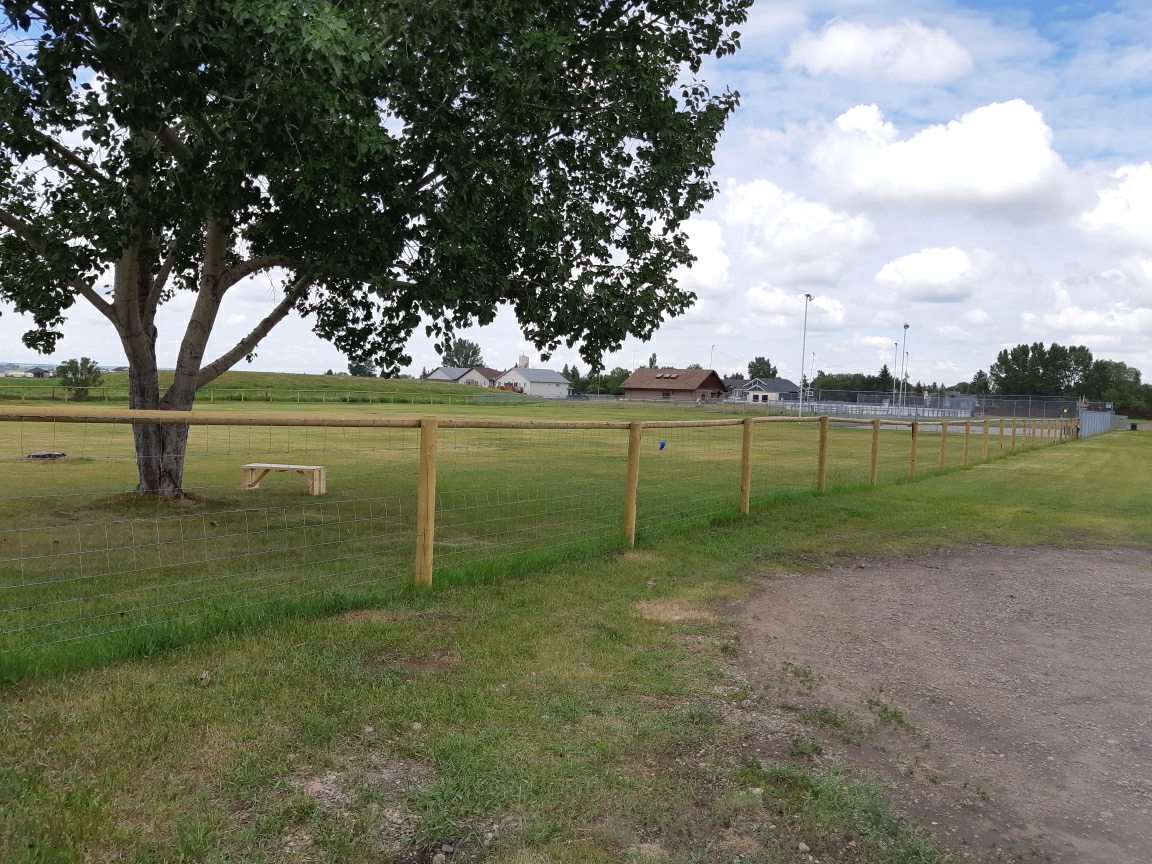 Irricana Dog Park
Located behind the skating rink on Henricks Drive, you will be able to locate our towns very own Off Leash Dog Park! that was proudly built this 2021.
This fully fenced in area provides a place for our furry friends to run and play to their hearts contents.
While the park is still new we hope to add more to it with the introduction of a doggie drinking station and benches.
Pet owners are responsible for cleaning up after their pets and are asked to ensure that their pets are in control at all times – on or off of a leash.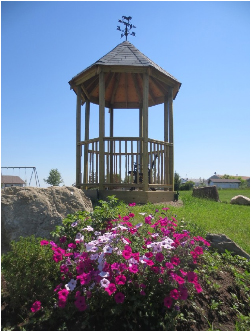 Harold and Hilda Knight Garden Dedication
Two of our important rural volunteers passed away (Harold Knight in 2013 and his wife Hilda in 2014). In commemoration of Harold and Hilda, friends and family members wanted to have a garden dedicated to their memory and so one was built by Public Works park staff in the previously named Harold Knight Park in Irricana. On July 24th, 2014 a garden dedication was held to remember those who have helped build our community. At this park there is also a beautiful hidden playground for families to enjoy
Rainbow Park
Located at the corner of 5th Street and 2nd Ave is Rainbow Park, you can't miss the mural painted by our very own Irricana residents along the fence behind the Playground. This park is easily accessible and will be undergoing renovations in summer of 2018 as The Town has received a grant from the Alberta Municipal Demonstration Program to install pour in place recycled tire product for the ground.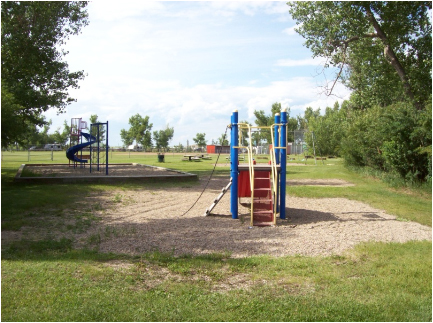 Founders Park Playground
This fun playground is located in the Founder's Park Campground for campers and residents alike. It sits adjacent to two baseball diamonds and has easy access to trails and washrooms. A great area for people visiting/using the campsites or those taking part in a baseball tournament.
One of the most successful and easiest new programs initiated is community garden adjacent to the east access road coming into Irricana. The garden space is a piece of land on loan by a developer who owns the property. A non profit group coordinates the community garden and its policies and ten or more residents are given garden plots and become the caregivers of this area each summer. It is not unusual to see three generations of families gardening together in the evenings and enjoying their harvest of freshly grown veggies. Volunteers rototill the gardens in the spring and water is supplied in a holding tank located at the community garden site from the waste water at the water treatment plant by town public works.