Municipal Government
Town Council
Click a Councilors Name to open their Profile

Frank Friesen
Email: frank@irricana.com
Town: 403 935-4672
Cell: 403 333-5523
My husband and I moved to Irricana 4 1/2 years ago. We chose Irricana because we wanted the slow paced life and country living. We have found Irricana very warm, friendly and accepting. It is a wonderful place to live. It's funny, as living here as a kid, to this day, as we walk around town, there are still places here, that bring fond memories.

Two years ago, I was encouraged to run in a by-election. After winning, I realized how much I enjoy the political side of Irricana as well. One of the great things I love about Irricana, is that it is a very political town. Everyone has an opinion, which is great.

I ran again for council, to keep improving Irricana for the residents. We have a lot to do in some areas, there's no denying that.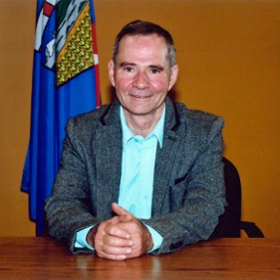 Kim Schmaltz
Email: kschmaltz@irricana.com
Town: 403 935-4672
I was born and raised in the area.
Attended and graduated from Beiseker and Kathryn schools then attended U of C before coming back to farming and owning a dairy farm for 23 years and moved on to purchasing the Irricana post office.My mother and father still farm in the area I do love Irricana, the small Town appeal and the people caring about each other as neighbors and as friends.

Debbie Day
Email: dday@irricana.com
Town: 403 935-4672
My name is Debbie Day and I am married to Bob Day.

We moved from Calgary to live out in a smaller community and eventually found our way here to Irricana where we have been living since March of 2016.

I worked in the Insurance Industry from 1974 -2008.
My husband and I own a Kenworth Semi-Truck which he runs over North America.

Lisa McAree
Email:  lisa@irricana.com
Town: 403 935-4672
Profile Pending

Anton Van Arendonk
Email:  ton.vanarendonk@irricana.com
Town: 403 935-4672
Profile Pending
Town Administration – Roles and Contacts
Main Office
P.O. Box 100,
222-2nd Street
Irricana, AB T0M 1B0
Phone: 403 935 4672
Fax: 403 935 4270
Email: Irricana@irricana.com
Hour of Operation
Monday to Friday
8:45 am – 4:15 p.m.

Closed from
12:30 p.m. – 1:30 p.m.
Report a Road Concern
Public Works
Phone: 403 935-4672 ext.100
Administration
Email
Phone
Barrie Hutchinson
Chief Administrative Officer (CAO)
-Development Officer
-Safety Coordination/Emergency Management
-Economic Development Officer
cao@irricana.com
403-935-4672 ext.101
Patty Malthouse
Taxes & Utilities Clerk
irricana@irricana.com
403-935-4672 ext.100
Sam Scrivens
Reception
sam@irricana.com
403-935-4672 ext.112
Brook Swanson
Community Services Coordinator
brook@irricana.com
587-888-4991
Donavin Palardy
Public Works Foreman
super@irricana.com
403-935-4672 ext.100
(On-Call 403-935-4672)
Council Meeting Agenda's & Minutes (2014-2022)
Development Planing Information
Strategic Plan 2018-2021
On February 24, 2018, the Town of Irricana took part in a strategic planning workshop to establish the foundation for their 2018-2021 Strategic Plan.
The session was facilitated by Nathan Cross, Community Development Officer, Alberta Culture and Tourism. This report captures an overview of the process as well as a summary of the results from the various discussions.